Receive 2.5% Of The Total Sale Price Back At Closing On Any New Construction Home, Through Any Builder, Anywhere In The State of Texas!
Working with Texas homes 2.5% Rebate is easy and saves Texas homebuyers thousands of dollars when buying a new construction home through a builder anywhere in Texas. – Not many people realize that rebates are available to them so, congratulations on doing the research that led you here! You'll be so glad you did when you find out just how much money you can save by working with Texas Homes on your next home purchase.
Calculate Rebate ($)
Your Total Savings:
$16,400 Rebate
"My wife and I had a really great experience working with Brandell and we recommend her highly. I'm the first to admit that I am not the easiest client and have no problem voicing my opinions and concerns. Brandell was prepared every step of the way and always fully addressed my questions. She was so attentive to all of our needs and never ever pressured us to make any decisions that we didn't feel comfortable making. Brandell was always prompt and responsive to all of our questions. She is very knowledgeable regarding the Texas real estate market. Also, her use of modern technology made the process seamless. Obviously, the icing on the cake was the rebate that she gave us at closing. It was so refreshing working with someone who understands that clients today do a lot of their own research and homework in buying their home. Brandell understands that concept and rewards her clients for the value that they provide during the search process. We recommend Brandell's services and will be using her for future transactions."
Jim and Linda B. – Houston, TX.
LET US REWARD YOU WITH THE HIGHEST REBATE IN TEXAS!
What is a Homebuyer Rebate?
Texas is a great state to buy or build a home. Homebuyer rebates are not offered in every state, but Texas allows rebates to be offered legally. This is just one of many great incentives available to smart homebuyers, like you.
When a new home is built or sold in Texas, the realtor who represents the buyer typically makes a commission of 3% of the sales price of the home. Texas Homes Two Percent Rebate simply rebates the buyer 2.5% of the sale price of the home which comes from the commission the builder pays the real estate broker. I keep ½% for facilitating the transaction. Hence, over two-thirds of the realtor's commission is RETURNED back to you, the homebuyer. This applies to any new construction home; through any Texas home builder or contractor. The credit can either be applied to your closing costs, used to pay for upgrades, lot premiums, appliance packages, reducing the price of the home, buying down points for a better interest rate or with lender approval, as a check cut to you after closing. It is your choice!
This rebate comes directly from the agent's commission. It does not interfere with any builder incentives offered to the buyer. In fact, the builder would just keep it, if you were not using a realtor. This is simply a way for you, the home buyer, to access money that you are already paying towards the purchase of your home.
Plus, the 2.5% rebate is completely tax free! You will not be issued a 1099 for the return of funds!
Why Does Texas Homes Offer This Rebate?
Because we deal in volume sales, and understand how expensive it can be moving into a new home, Texas Homes has been offering this win-win-win program. That's right everyone benefits, especially you!
Homebuyers get a 2.5% cash back rebate, which equals thousands of dollars!
Texas Homes gains your business as a client and earns 0.5% of the transaction.
Builders Sell more homes.
When we all work together, everybody wins! In fact, we hope you will tell EVERYONE about this awesome program!
When you buy a new TX home through a builder, there is less time involved for the Realtor. The builder's on-site sales team handles the showings and the paperwork. This allows us to reduce the rate of commission, thereby offering a generous rebate back to the home buyer.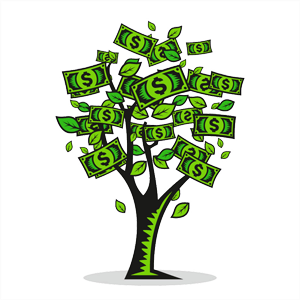 WHO SAYS MONEY DOESN'T GROW ON TREES? WHEN YOU USE TEXAS HOMES 2.5% REBATE AS YOUR AGENT WHEN YOU PURCHASE A HOME, IT KIND OF DOES!
Texas Homes 2 Percent Rebate is Committed to Putting Money Back into the Hands of Texas Homebuyers!
The Internet has drastically changed the way real estate is bought and sold. Today's consumers have nearly limitless information at their fingertips and are more educated about the communities they are interested in moving to. All of the research done by the buyer saves a real estate agent time and money, which is then passed on in the form of savings/rebate. Now you, the buyer, can be rewarded for all of the research you've done prior to the purchase of your home!  You deserve it!!